Description
LG 86″ UHD Commercial Display
The LG 86UM3E UHD Commercial Display is an Ultra HD large screen which delivers immersive viewing experience up to 4 times higher definition picture quality than FHD. This enables fine detail without distortion. Additionally the UM3E series ensures stable UHD video playback by supporting HEVC* that offers double data compression ratio at the same level of video quality compared to the conventional H.264.
Perfect for Zoom Rooms, Conference Rooms, Board Rooms, or Display Advertising.
PBP (Picture-By-Picture) features multi screen in a single display with up to 4 input sources, thus maximizing the usability of large UHD display. In addition, PIP (Picture-In-Picture) supports playing both main screen and sub screen at the same time with various layouts, so that users can arrange many different usage scenarios efficiently. The screen can be run in multiple configurations including quad screen mode – encapsulating four independent pictures into the one screen.
Contents can be simply played and scheduled via USB, so additional server connection is not required, enabling easy content management.
The LG 86UM3E UHD Commercial Display series supports wireless services for more optimized user experience with built-in Wi-Fi(802.11n). Mirroring supports sharing contents among devices on a Wi-Fi network and Soft AP makes the display operate as a wireless access point for other digital devices.
The LG 86UM3E UHD Commercial Display series ensures secured compatiblity with AV control Systems. For seamless integration and automated control in meeting rooms, boosting business management efficiency. Make your business stand out with this stunning display.
The LG 86UM3E UHD Commercial Display Physical Specifications :
Bezel Width 14.3mm
Monitor Dimension (W x H x D) 1,926.2 x 1,097.2 x 60.6mm (without logo / handle)
Weight (Head) 49kg
Carton Dimensions (W x H x D) 2,073 x 1,260 x 292mm
Packed Weight 61.1kg
VESA™ Standard Mount Interface 600 x 400mm
An Essential Way of Delivering Dynamic Content
The UM3E series satisfies a wide range of display purposes in your business while saving time and resources with efficient operational features. Easy-to-use menus designed for business purposes make for a more convenient and powerful display.
Excellent Picture Quality
Wide Viewing Angle

LG IPS panels allow you to enjoy lifelike picture quality with minimal variation from wide viewing angles. Featuring excellent consistency in colour temperature and less change in contrast, LG IPS panels boast excellent image reproduction.

Vivid Colour Details with Ultra HD

With the Ultra High Definition display of the UM3E Series, users can view content in ultra high detail, even when zoomed-in. Ultra HD provides an exceptionally high-quality media experience at four times higher definition than Full HD.
Integrated CMS
Easy Contents Management
The embedded CMS (Content Management System) allows you to edit and play content, schedule a playlist and even group and control signages via a remote control, without need for a separate PC. This makes content management much easier and user-friendly.
Powerful webOS Smart Signage Platform
Group Manager
Content can be created and distributed to multiple signage screens by one master display, without the need for a dedicated PC or server. 1)
Powerful webOS Smart Signage Platform
Various Sensor Applications
Powered by a smart platform, the UM3E series signage easily supports connections with external sensors such as GPIO, NFC/RFID, temperature sensors, etc. via USB plug-in. The overall cost of ownership is reduced as there's no need to purchase additional software or media players.
*Sensors need to be purchased separately from third party suppliers
Powerful webOS Smart Signage Platform
Split Screen with PBP/PIP
The PBP (Picture-By-Picture) feature gives a chance to compose up to 4 divided split screens on landscape or portrait display format. PIP (Picture-In-Picture) supports playing both the main screen and sub-screen at the same time in various layouts.
Easy Maintenance
Real-Time Monitoring & Control
Through the embedded web monitoring webpage, (Control Manager*) you can control and monitor the status of displays remotely, allowing you to flexibly and rapidly respond to emergency situations anywhere.
* Network connection is required for webpage browsing
Easy Maintenance
Signage 365 Care
Maintenance gets easier and faster with the optional Signage 365 Care service, an additional cloud service solution provided by LG*. Signage 365 Care remotely manages status of displays in your workspaces for fault diagnosis and remote services, helping ensure the stable operation of your business.
*Additional charges apply
Wireless Solution
Content Sharing
Content Mirroring among devices is more convenient on a Wi-Fi network.
Real-time Promotion
With Beacon and BLE(Bluetooth Low Energy), shop managers can provide coupons and information in real-time.
Wireless Solution
Wireless Access Point
The UM3E series operates as a virtual router which can be a wireless access point for mobile devices.
Partner Compatibility
Compatibility with AV Control System
The UM3E series has Crestron Connected Certification, a function and network based control system that is dedicated to meeting rooms and that meets a growing need in the corporate meeting space market.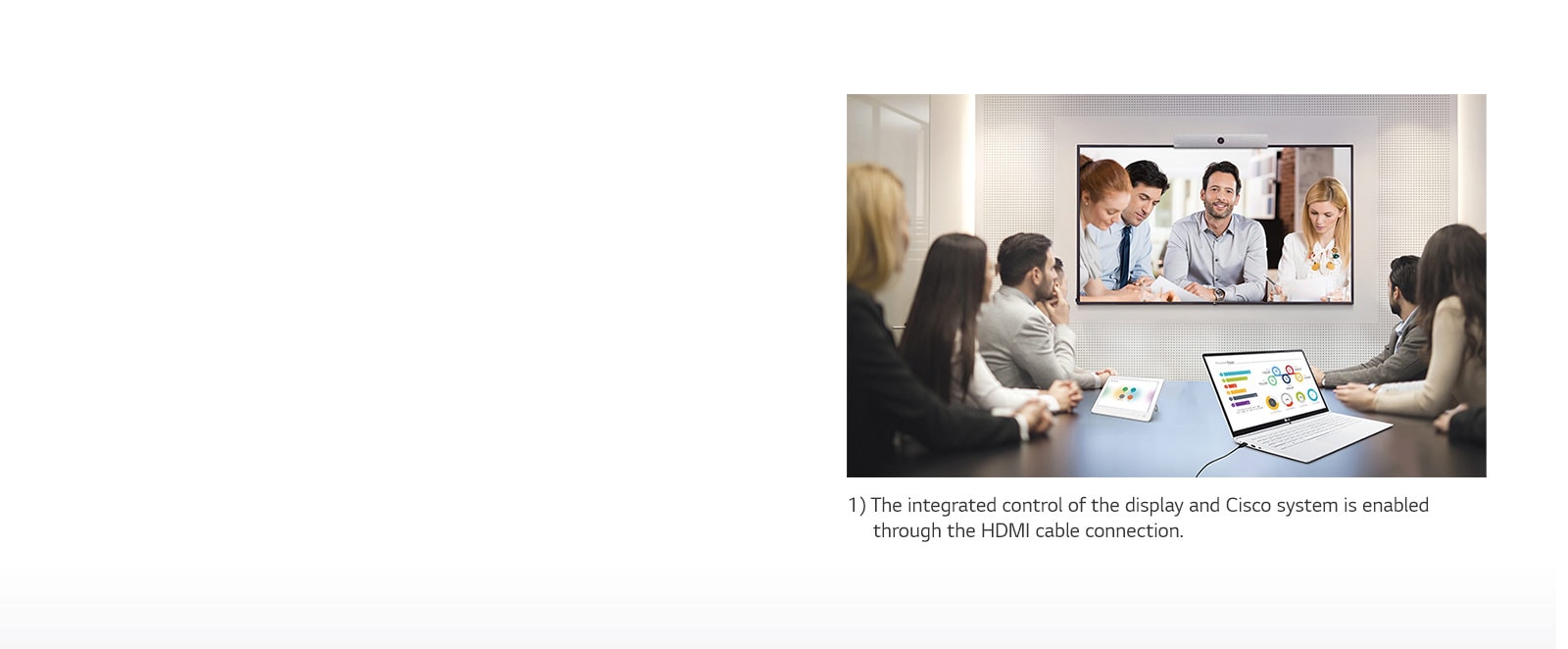 Partner Compatibility
Compatibility with Video Conference System
The UM3E has been certified for its compatibility with Cisco Spark Room Kits, a system that offers powerful and integrated control1) for smarter video conferencing, reducing time spent on setting up the picture quality or to change input on incoming calls.
Space-efficient Design
Slim and Tidy in Appearance
Although UM3E series is a large-sized display, the product still has a slim depth, a feature that allows easy installation by using less space. An immersive view is attained while maintaining a sleek look.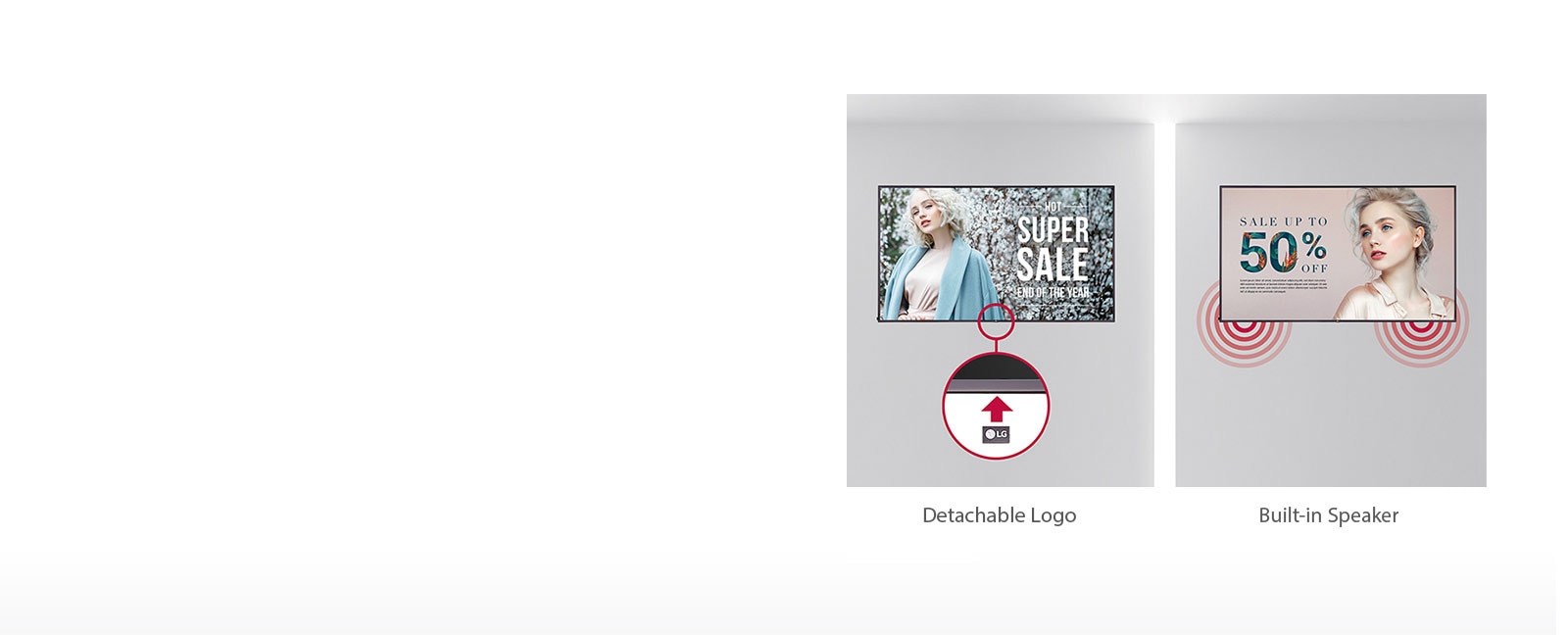 Space-efficient Design
Detachable Logo & Built-in Speaker
The detachable logo allows for installation in the desired orientation in landscape or portrait mode, making it easy for the user to arrange the signage. Also, sounds can be played from built-in speakers, giving advertisements greater impact.
PANEL
Screen Size

86″

Panel Technology

IPS

Aspect Ratio

16:9

Native Resolution

3,840 × 2,160

Brightness (Typ.)

350cd/m²

Contrast Ratio

1,200:1

Viewing Angle (H x V)

178 x 178

Response Time

8ms (G to G)

Surface Treatment (Haze)

Haze 3%

Life Time (Typ.)

30,000Hrs

Operation Hours

16Hrs

Orientation

Landscape
CONNECTIVITY
Input

HDMI (3), DP, DVI-D, Audio, USB 2.0 (2)

Output

DP, Audio (Off/Fixed/Variable)

External Control

RS232C In/out, RJ45 In, IR In
PHYSICAL SPECIFICATION
Bezel Colour

Black

Bezel Width

14.3 mm (Even)

Monitor Dimension (W x H x D)

1,926.2 x 1097.2 x 60.6 mm (w/o Handle and Logo)

Weight (Head)

49kg

Carton Dimensions (W x H x D)

2,073 x 1,260 x 292 mm

Packed Weight

61.1kg

VESATM Standard Mount Interface

600 x 400 mm
SPECIAL FEATURES
Special features

Internal Memory (System 4GB + Available 3.6GB), Wi-Fi Built-in, Temperature Sensor, Auto Brightness Sensor, webOS 4.0, USB Auto Playback, Local Contents Scheduling, Group Manager, Fail Over ,Image Customisation (Booting Logo, No Signal), Content Sync (RS232C, Local Network), PIP/PBP(4), Screen Share, Play via URL, Content Rotation, Tile Mode Setting (Max. 15 x 15), Setting Data Cloning (RS232C, Network, USB), Firmware Update by Network, SNMP, ISM Mode, Control Manager, Crestron Connected Ⓡ 1), Cisco Compatibility 2), DPM, Smart Energy Saving, PM Mode, Wake on LAN, Beacon, HDMI-CEC 3), SI Server Setting, webRTC
Click here to view more from the manufacturer.
Click here to return to shop.